A FISHERMAN'S DREAM COME TRUE!
The only way way to ensure that you have great fishing success is to go where the best fishing is… and spend as much time as possible fishing!

Hard to argue with that, right?

The Emerald Island Mothership Experience is the only charter fishing operation in Alaska that not only puts you onto the very best proven fishing but also allows you to spend more time doing just that… fishing!
The 91 foot Emerald Island is our moveable fishing "camp", placed in a beautiful remote harbor 5-10 minutes from the best fishing grounds. Unlike fishing from a lodge, located many miles away from any good fishing, you will NOT have to travel everyday to and from the fishing grounds from the lodge… you are already there!

The EI has two 30-50' charter vessels ready to get your fishing started an hour or two before most of the other lodges' guests arrive on the fishing grounds! If you fish with us, you also can choose to stay out an hour or two later than all the other charter boats because… they have to spend an hour, or two, transiting back to their lodges.

This will provide you with 2 to 4 extra hours of fishing every day!

As all experienced fishermen know, fishing early before the rest of the "crowd" shows up, is a great advantage! Many times the halibut fishing builds to a crescendo of bigger fish in the late afternoon, or the silvers start biting… aaahhhh! Just when it is time to head back to the lodge!

The extra time, and the flexibility to fish when the fish are actually biting, will provide you with vastly better fishing, resulting in bigger and better catches!

There is no comparable Alaska Saltwater fishing experience!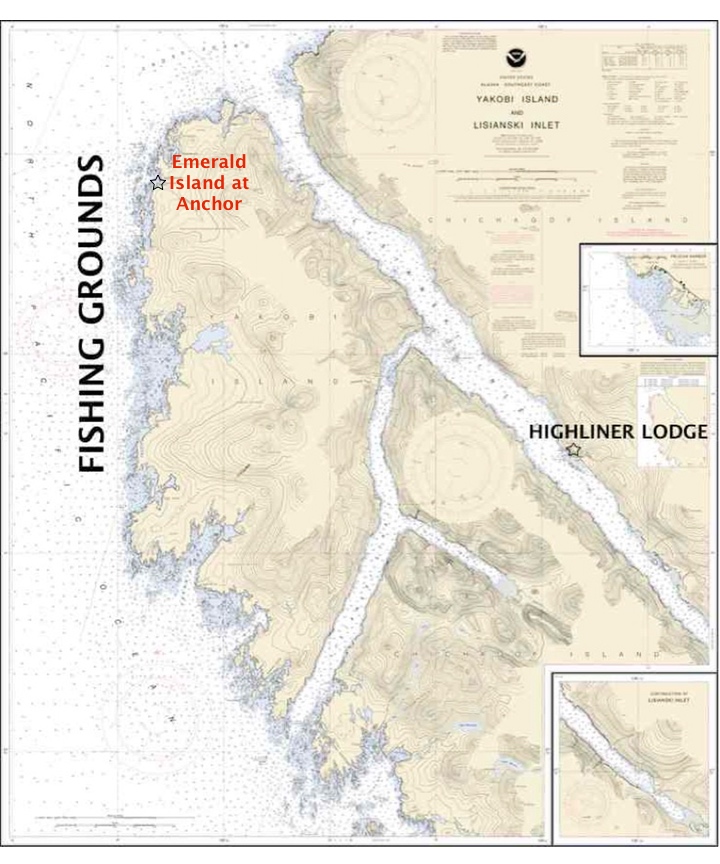 Getting Here

To get to Emerald Island Mothership Experience, you will fly into Juneau, Alaska, where you will connect with a float plane to transport you and your fishing buddies to Highliner Lodge in Pelican, about 90 miles west of the state capital. We will make all of the arrangements for you from the Juneau Airport. All you have to do is get yourself there on one of the many daily flights from Seattle.

Once you're in the city of Pelican, on remote Chichagof Island, you will be a world away from the industrial tourism and overfishing that have ruined so many once wild locations in Alaska. The Highliner Lodge byline is "Closest to the Fish!" for a reason, as it is located only about 45 minutes from the best fishing grounds in all of Alaska. A stay on the Emerald Island however, will put you even closer to the fish!

On the Emerald Island, you will enjoy some of the same comforts that you'd find in our land-based operation, such as great meals and a hot shower at the end of the day, but it's not your typical resort vacation or spa-like retreat. The emphasis is on the actual fishing… epic fishing that you will remember for a lifetime!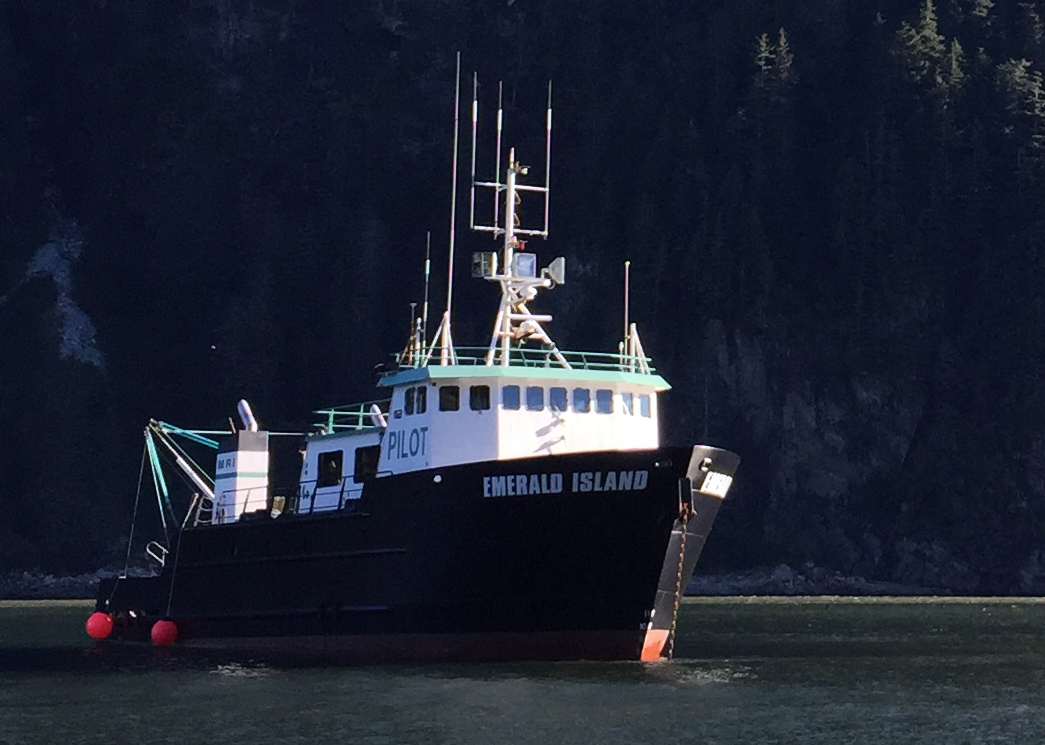 The Emerald Island is a ruggedly built 91' steel vessel that can accommodate up to 10 fishing guests at a time. Each guest has their own private stateroom.
Exclusive benefits to staying on the Emerald Island
The same incredible fishing experience you expect from the Highliner Lodge boats and captains, but with an added 2-4 hours of fishing each day!
You do not have to spend 2 hours a day transiting to and from the fishing grounds
Groups of 8-10 will have exclusive use of the 91' Emerald Island and two charter boats
You will fish from an extraordinary secluded location with drop dead gorgeous views
You will have the flexibility to fish early and/or stay out later