OUR HALIBUT ARE  3 TIMES BIGGER THAN SITKA, SEWARD AND HOMER!
(Well ok, 4 times bigger than Homer)
Every year the National Marine Fisheries Service (NMFS) publishes the weight of the average halibut caught in each area of Alaska…
We catch the biggest halibut… year after year… after year!
The table below shows the lodges and towns in a given area and the average halibut weight. We fish in the "Glacier Bay" Area. The Highliner Lodge now owns and operates the Emerald Island Mothership.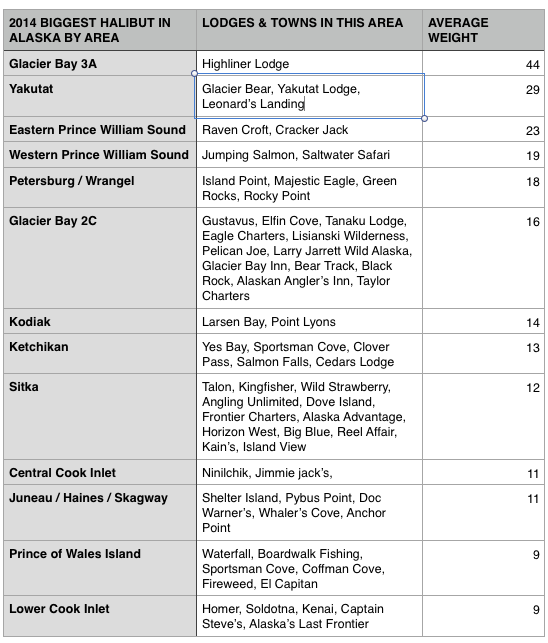 2014 NMFS STATISTICS ON HALIBUT SIZE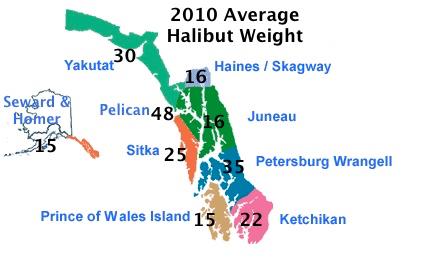 Although over the past 5 years there have been dramatic decreases in the average size halibut in most of the state, our average has remained remarkably steady and is still by far the biggest average in all of Alaska!
Location, Location, Location! Salmon & halibut migrate in the Gulf of Alaska from the west to the east. Because area directly to the west of our fishing grounds is so remote and inaccessible, there is almost no fishing. This 450 by 100 mile stretch of the migratory path (purple area marked "unfished") in a virtual marine sanctuary. We are the first in line to take fish migrating from this area. That's why we like to say we are "Closest to the Fish!" This is why our halibut are 3 times larger than Sitka, Seward and Homer! Our halibut average 45 pounds… their halibut average only 15 pounds. This is because our fishing grounds are NOT over fished! (The table in upper right hand corner of the chart is blown up below for a better view of the average halibut weights). Our halibut are counted in the Glacier Bay area. I have highlighted Yakutat because they also fish in this unexploited area and that's why they have the second largest halibut in the state.
---
If you're not catching fish, you need to change your location! Formerly great fishing areas do get fished out. Regulations change to protect the few remaining fish (Google: Local Depletion Sitka). Fish are not evenly distributed throughout the ocean, and it matters greatly where you fish! I have fished for a living for over 40 years and I want to tell you LOCATION is the single most important factor in catching salmon and halibut!

Fish with us and you actually get to KEEP your fish.  Imagine that!
What does it matter how big the halibut are if you have to throw all of them back?! Don't like the regulations limiting you to one halibut per day? 
Again, Alaska Dept. of Fish & Game statistics prove that Highliner Lodge halibut are 3 times bigger than halibut caught in Sitka, Seward and Homer… in fact, they prove that our halibut are the biggest in the state of Alaska… but what does it matter… if you have to let them go?
What if you had to release the biggest fish that you have ever caught… in you life?
WE HAVE A SOLUTION
We are the first, and possibly the only, fishing lodge in Alaska that can offer you the guided fishing opportunity to catch and keep 2 halibut per day of any size! While we think that the regulations are necessary to rebuild fish stocks… we are able to offer our guests the choice to keep 2 halibut a day of any size in area 2C and area 3A!
HOW DO WE DO THIS? IN TWO WAYS:
1. We are NOT limited to one halibut per day like almost all other lodges in SE Alaska. Sitka, Ketchikan, Juneau, Petersburg & Craig lodges are located where they are restricted to one halibut per day that must be under 42′ inches (34 pounds) or over 80 inches (277 pounds). ALL OTHER HALIBUT MUST BE RELEASED!! We have licenses to fish in Area 3A, where you may keep TWO halibut per day… one halibut of any size AND a second halibut under 29 inches (10 pounds).
2. We are the first, and perhaps the only, fishing lodge in Alaska that has acquired commercial halibut quota to use in the charter halibut fishery. We have purchased the right to convert commercial allocated halibut to charter halibut so that our guests will have a choice of whether, or not, they would like to keep two halibut of any size every day in any area. This choice will come at a price… a choice that you get to make when that great big halibut is at the side of the boat… you will determine its value and decide whether, or not, to take that fish… a halibut that at other lodges you will be forced to release.
Trying to decide where to go charter fishing for halibut?
You need to know these FACTS!
Emerald Island and Highliner Lodge halibut are 3 times bigger than halibut caught in Sitka, Seward and Homer!
Half of all Emerald Island and Highliner Lodge guests have caught halibut over 100 pounds over the past 3 seasons!
The Emerald Island and Highliner Lodge has licenses that allow all of our charter fishing guests to keep up to 2 halibut a day of ANY size!
The Emerald Island and Highliner Lodge guests limit out on BOTH salmon AND halibut over half of the days that they fish!
The Emerald Island / Highliner Lodge is the fastest growing charter fishing business in Alaska!
The Emerald Island and Highliner Lodge provide all of their charter fishing guests an opportunity to keep 2 halibut a day of ANY size using the new Guided Angler Fish (GAF) program.
In 2014 over 110 Highliner Lodge guests used GAF to keep a halibut that they would have had to release at almost any other Alaska lodge!
RESULTS
This is why we call ourselves HIGHLINERS!
For two years running, 2012 and 2013, our fishermen have limited out on halibut almost every single day! In fact, over half of our guests have caught a halibut over 100 pounds in both years… 20 guests (1 out of 10) have caught halibut over 200 pounds in each of these past two years… and 3 guests caught halibut over 300 pounds in each of these past two years… that is 1 out of 75 guests catching a halibut over 300 pounds!!
Using commercial halibut quota we can offer the best chance to catch the biggest halibut in the state of Alaska! The ADF&G statistics prove it. Our track record proves it. And our investment in 2C AND 3A halibut licenses in 2012 and commercial halibut quota in 2014 insures it!
What is a HIGHLINER? In the ultra-competitive commercial and charter fishing industry, it is the title of respect bestowed upon those very few top fisherman who through dedication, tenacity, innovation and daring consistently bring in the biggest catches. We aspire to be Highliners by bringing you the very best Alaska sport-fishing, boats & gear, accommodations and the finest dining in Alaska!
Situated close to the outside waters of the Gulf of Alaska, the Highliner Lodge is located "Closest to the fish". The annual migration of king salmon from the North Pacific to southeast Alaska, British Columbia, Washington, Oregon and California passes along the outside coast. Halibut also follow this path. Did you know that the Canadian commercial halibut fleet used to fish out of Pelican until they were banned in the late 1960s? Why do you think they bothered to come all the way up here to fish? This is where the fish are! Did you know that virtually all of the commercial salmon trollers in Southeast Alaska fish as near to the Gulf of Alaska as possible? Why? Because this is where the fish are!
The Cross Sound to Yakutat chart above shows 200 miles of an immense coastal area that hasn't a single fishing lodge located in it. There is zero sport fishing effort between Yakutat and Cross Sound. This serves as a virtual marine sanctuary and is part of the reason our catch rate for salmon and halibut exceeds all other areas in the state! I have blown up the area in the bottom right hand corner of this chart and posted it below.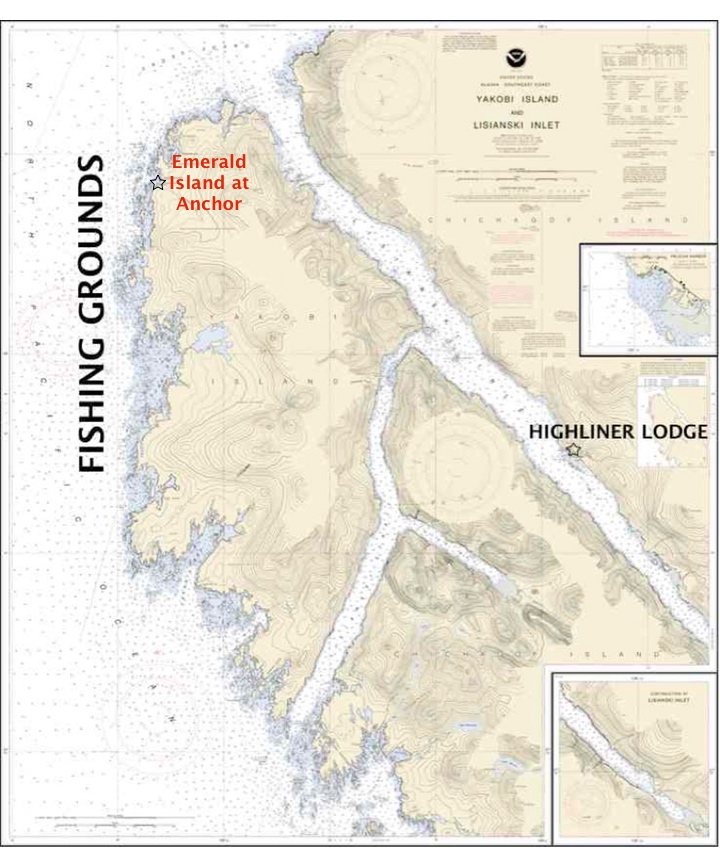 It takes only 40 minutes, at 25 knots, to reach our favorite fishing on the outer coast of Yakobi Island. If its rough on the outer coast, the inside waters near Pelican provide over a hundred miles of calm coastline to fish and explore.
LOCATION, LOCATION, LOCATION: Because the Highliner Lodge is located within 10 miles of the Gulf of Alaska (95% of lodges in southeast Alaska are located about 125 miles from the Ocean-See map), we don't rely on one particular run of salmon that spawn in a particular river system. We are catching king salmon from hundreds of salmon runs that are destined for local Alaskan rivers as well as Canadian, Washington, Oregon and California river systems. This means we have a steady supply of king salmon beginning in May and continuing into September! The further inland and south a lodge is located the more reliant you are on local fish alone. Those fish bound for a river system down south migrate down the outer coast and very few of them show up in the inner coastal waters of southeast Alaska. Some lodges (located many miles away from the Gulf of Alaska) have a king salmon season lasting only two to three weeks and your timing is critical. If the fish for that system are late a week or two… well, you're out of luck! Ever hear the "You shudda been here last week" excuse? Even if you are lucky enough to book your trip at the peak of their season… your fishing will likely be vastly inferior to what you could expect at a lodge located right next to the Gulf of Alaska… where the fish are. For example, the peak "king salmon season" in the Petersburg area is about 1 month long and the average catch there is one king salmon every 8-9 hours of fishing. Our peak season 3 months long and we average one king salmon for every 4 hours of fishing… that is for 3 solid months from May through July! That's twice as good… and 3 times as long! After mid July, our average is one king salmon every 6 hours, and in the Petersburg area it will take you well over 100 hours to catch a single king salmon! That is ten days of fishing for ONE fish!
Maybe you're thinking, "Well, gee I don't like to fish in the ocean… It's hard to stand up and I might even get seasick!" Well, that's understandable. No one wants to be miserable!
Once again, the mantra: LOCATION, LOCATION, LOCATION! The Highliner Lodge is so lucky to be very near the ocean, and yet when we fish in the ocean…we don't have to run 20 to 40 miles from protected waters. We usually fish very close to the shore, because…that's where the fish are! If its too rough in the ocean, we can easily move into and fish in calm inside waters, and we still be close enough to the ocean to access a steady supply of fish. Many lodges (especially out of Homer and Seward, and lately Sitka) have to travel 20 to 60 miles, and sometimes many miles off-shore, because the local waters have been depleted by their massive local charter fleets. This means you are wasting many uncomfortable hours traveling to and from the fishing grounds in unprotected waters. These lodges are well established because they have a steady stream of customers from cruise ships, airlines and the road system connected to population centers. Again, we built the Highliner Lodge where there are lots of fish… and few people. They built their lodges where there are lots of people and many times very few fish.
"If you have such a great location, why aren't there more lodges and boats in your area?"
Besides not having an airport, cruise ships, and a road in and out of our area to supply clients, there is very little infrastructure and almost no land available to support more lodges. 99 percent of all this area is in Glacier Bay National Park or Lisianski Wilderness area and its use is severely prohibited. We are nearly 100 miles away from a Costco, a Home Depot or an outboard motor mechanic.
Lodges fish for clients. They don't go to where the fish are…they go to where the clients are! It's easier to attract clients to known destinations; like Sitka, Seward and Homer… how many people have heard of Pelican, Alaska? Lodges attract other lodges. The Kenai River is a prime example. Their reputation was built 40 years ago. Everyone's heard of the legendary Kenai River! But, you can drive there, you can fly there, you can even take a bus there! The fish-guiding business there has an never-ending stream of fishermen. They now have a very limited number of fish. The Kenai River king salmon fishing has been so bad lately that it has had to be closed entirely 2 of the last 3 years. Even when you are allowed to fish, they have to put a positive spin on the grossly overcrowded and over exploited fishing… so they call it "Combat Fishing"… as if that were a good thing!
The cost to operate where we are is much higher than in those other destinations. Gas costs $1.00 more per gallon here than in Sitka. Electricity is 4 times the cost of Sitka's electricity. A grocery or hardware store in Pelican? Forget it! Many of our supplies are shipped into Pelican on a seaplane at $.80 per pound. And we have the expense of flying you and your fish in and out of Pelican on afloat plane!
"
What makes you an expert?" I'm not a doctor, lawyer or trust-fund baby who decided to buy a fishing lodge instead of retiring to Palm Springs (although that might not be so bad!). I am a life-long commercial salmon and halibut fisherman. I have lived and fished… crabbing in the Bering Sea (think Deadliest Catch!), long-lining halibut in the Gulf of Alaska, and trolling for salmon in southeast Alaska for nearly 38 years. This is the only career I have ever known. I have made it my life's work to know where, and how, to catch fish. (see About Us Page)
I am NOT an expert in public relations, marketing, networking, back-slapping, or glad-handing…(I know…it shows!) but, hey, I'm working on it! But, I do know where to catch fish!
"When IS the best fishing?"
TIDES: Although fishing is always unpredictable on a daily basis, it is more predictable over the entire season. I've been chasing salmon and halibut as a commercial fishermen since 1976 and although I've heard many times that there is a correlation between the big tides and good salmon fishing… I'd have to say it's been inconclusive (as far as I can tell). The only thing about large tide swings (that I know for sure) is that the heavy current associated with them, makes it difficult to get your halibut jig, or bait, down to the bottom of the water column… you know, where the fish are! Don't worry too much about tides because the current isn't nearly as strong where we fish. There are some places in Alaska that the tidal flow is so great that much of the time the fishermen have to use 7 pounds of lead just to get the gear to the bottom. We use 2-3 pounds.
Our fishing for halibut and salmon overall is equally good in May, June, July and August at the Highliner Lodge. The only significant difference to think about is the fishing for
Coho (silver salmon). Since our lodge is located very near the Gulf of Alaska, we are able to catch Coho that are heading to all of the streams in southeast Alaska. Again, if a lodge is located further inland, they have to wait for the fish to come to them… when they get ready to spawn. Their window of opportunity is shorter and dependent on the run from just a few streams. We start to catch Cohos in late June (but they are smaller at that time… 6-10 pounds). They show up more reliably by the second week of July and are bigger at 8-14 pounds. The Coho run peaks in late August, and by then the size increases to 10-18 pounds. In September we have some exceptionally good Coho fishing and they are nearly as big as a king salmon at 12-20 plus pounds!)
SALMON FISHING
DON'T USE THIS CHART!
Other lodges post some generic chart like the one below on their website which purports to show the timing of the salmon runs…
Those charts are worthless at best, and downright misleading most of the time! They are representations of ALL salmon fishing in ALL areas of Alaska. There is usually very little correlation between the fishing at that particular lodge and the chart.
This chart is what we use. It show the ACTUAL catch rates for every week of the season by area.
This chart is on the Alaska Dept of Fish & Game website and is for Sitka. You can see that the average catch rate is 1 king salmon for every 3-6 rod hours from May 1 to July 15 (2011 was much better). With 4 rods  the rate  is one king an hour. These are the fish that are kept and logged released fish aren't counted so the real catch rate is much higher. They don't make a chart for Pelican because there is very little fishing effort there… but federal stats prove that our fishing is as good as, or better than, Sitka's.
Our actual catch rate is much better than this. The past 2 years our catch rate was about twice this good.
"Why don't the other lodges show this type of charts?"
It obviously would be embarrassing for them and only prove my point.
There is more information about this on our CATCH RATES webpage. you will see how very different the catch rates and timing is from one location to the other.
Most lodges can't get you even close to where the fish are… they are simply located too far away from the Gulf of Alaska and they are overwhelmed by fishing effort! You might hear something like this from those lodge owners, "You should have been here last week" … but, if you Take a look at a chart with the catch rates per rod hour you will see that they don't catch many king salmon… last week… next week… or any week!
Kings salmon REALLY are at their peak from May through mid July at the Highliner Lodge and we get great king bites through mid August. Our king salmon fishing does slow down a bit in July and August… there are still many kings but they are diluted by cohos and pink salmon and are harder to catch. In July and August many times we are simply too busy catching cohos… so we catch fewer kings. And by the way, at the risk of sounding like a snob… we DON"T keep pink salmon (aka humpies) because we catch the money fish! If you go a lodge that wants you to catch, and take home, pink salmon in your box… it's because they can't catch you enough king salmon and cohos. We catch plenty of the money fish and only keep pinks for halibut bait!
And one more thing…
Ever heard of the "Guaranteed to catch a salmon" pitch? What kind of salmon do you think that is anyway? You guessed it… a 2-3 pound humpy!
Sockeye, Chum, Rainbows and Dollies, Steelhead?
Sockeye: there are very few sockeyes in southeast Alaska, and where there are millions… they don't usually bite a hook.
Chum salmon: They are called "dog salmon" for a reason… fit only for sled dogs.
Steelhead, Rainbows & Dollies: I'm getting out of my area of expertise here… I am a saltwater guy… but I would say that if you want to fish in freshwater, go to a fresh water lodge that specializes in that. Don't expect much if you go to a saltwater fishing lodge. I think you will be disappointed!
These fish are just "Bait & Switch" offerings for fishermen who don't really know the differences in the species.
HALIBUT FISHING

Our halibut fishing is equally great all season long, from early May through September.
Most other halibut grounds in Alaska have such intense effort that they get fished out quickly, and if you don't get there early in the season, you will have to go many miles further out to sea to catch halibut of any size… or you may be reduced to catching only little "chicken halibut". Some of these halibut are now so small, they should really be called "Chicklets"!…that's just embarrassing!
Our halibut fishing is the best in the state… and the fishing is equally good… all season long!

Year in and year out, we consistently have the largest halibut in the state of Alaska!

2008 COMPARISON OF AVERAGE HALIBUT WEIGHTS STATEWIDE
(We are considered in the "Glacier Bay" area)

2009 COMPARISON OF AVERAGE HALIBUT WEIGHTS STATEWIDE
(We are considered in the "Glacier Bay" area)
For more ADF&G statewide catch statistics see the Catch Rates! Page
Sablefish (aka Black cod)
These fish are the finest eating fish on the planet! They are more highly valued than king salmon or king crab (judging by price that commercial fishermen are paid for them… In fact, the commercial ex-vessel price for sablefish is about twice the price of king salmon and king crab). They are similar to Chilean Sea Bass, only better! You will find sablefish only on the menu of the finest restaurants in the world. Why haven't you heard of them before? Because they are a very deep dwelling fish and are usually out of the range of sport fishermen. Commercial fishermen often fish in water over 3,000 feet for sablefish… they call them blackcod… or black gold! We have to fish in over 900 feet to find most sablefish and we can do this by using electric reels! Often we catch two sablefish on one rod at the same time! It's a blast… with electric reels (wouldn't want to crank them up by hand)! The limit is 2 per day and 6 per year. We know where, and how, to catch them too!
HIGHLINER LODGE FISHING TIMELINE
MAY & JUNE: KING SALMON AND HALIBUT are abundant at this time (and continue to be so through September!) We have the driest and sunniest weather this time of year as well.
JULY 1: Dude Fishing starts
EARLY AUGUST: Cohos start to get big!
SEPTEMBER: Coho numbers peak in late August to early September… but the fish just keep getting bigger!
We have the finest, best equipped boats in the area! We have 5 boats ranging from 30 to 50 feet. Typical is the "Highliner" pictured above, which was built for us by Little Hoquiam Boats in 2007, it is 32′ long and 12′ wide. The extra width allows our guests to walk completely around the cabin to battle big king salmon and halibut. The Highliner features a heated cabin, covered back deck, air-ride seats, sophisticated electronics, and a stand-up head. The twin 250 hp Suzuki outboards are quiet, smoke and odor free, and push the boat to a 25 knot cruise, with a top speed of over 40 knots! All of our boats have radar, global positioning chart plotters, color video sounders and electric down riggers.
We fish no more than four guests to a boat, (except on the "Burning Daylight" our 50′ Delta pictured below which we fish no more than six), unless you want to put a larger group together on one of the smaller boats
What sets us apart from other Lodges? The Fishing!
(ok, other things that set us apart)
Location: We are strategically located very near the ocean…no wasted time traveling long distances to fish. "Closest to the Fish!" NOT… "Closest to the Clients!
Location: We fish very close to shore when we are in the ocean where we have considerable protection from wind and sea. We are NOT restricted from fishing in calm inside waters very near the ocean as Sitka is.
Location: We are far from Juneau and Sitka and their cruise ships and hundreds of competing charter boats. Our fishing grounds are uncrowded and unexploited!
Scale of operation: 12 to 22 guests at the Lodge fishing at a time (although we can accommodate groups up to 32).
We maintain a four guest limit per boat insuring you the best fishing opportunity. (except on the 50′ Delta Charter boat where the limit is 6)
We offer an authentic Alaskan environment, far from the beaten path, taking you back to Alaska's pioneering days.
We professional care of your fish: stunning, bleeding, cleaning, icing, vacuum packing and blast freezing for optimum quality.
We are family owned and operated.
If you're after the fish, you won't be disappointed! For objective reasons, location and competition being paramount, you are in the best possible location!
FACTS FROM ALASKA DEPARTMENT OF FISH & GAME
Between 1982 and 2001, the number of charter fishing boats in southeast Alaska increased from 139 to 1,343! Maybe this is why the fishing hasn't been so good at the place you have been going to. Too many fishermen… too few fish!
"Where do you get your information? How do I know that it is reliable?"
All of my data is taken from the Alaska Dept. of Fish & Game (ADF&G) or the National Marine Fisheries Service (NMFS) websites.
This is where you can find current fishing reports and current Harvest/Effort Statistics. Click on the links below to see the Harvest/Effort Stats for the individual areas for the years 2011 – 2014 (these sites change all the time and the links may not always get you exactly where the information was when I wrote this page… but it is buried somewhere on the site).
Yakutat, Haines/Skagway, Juneau, Sitka (Pelican), Petersburg/Wrangell, Ketchikan, Prince of Wales Island
Call toll free 877-386-0397
CONTACT: steve@highlinerlodge.com